The Art of Entrepreneurship event on October 7 was an exceptional blend of inspiration, quirkiness and solid business savvy. It was my first "The Art Of" event, and based on the quality of the conversations on the stage as well as in the breaks with fellow audience members, it definitely will not be my last! I was delighted to be able to "doodle note" the event. The first keynote speaker, Eric Ryan of Method, appeared on stage in a white jump suit and enormous white-frame glasses that looked like he borrowed them from Elton John's Pinball Wizard era. It was clear that this was not going to be your typical, staid business conference! Ryan shared alively story about his decision to start a company that would not just safely clean homes, but also foster a cultural shift to bring fun and personality to a product and brand. You know you're not in a typical boardroom when asking "How do we keep it weird?" is a driving value!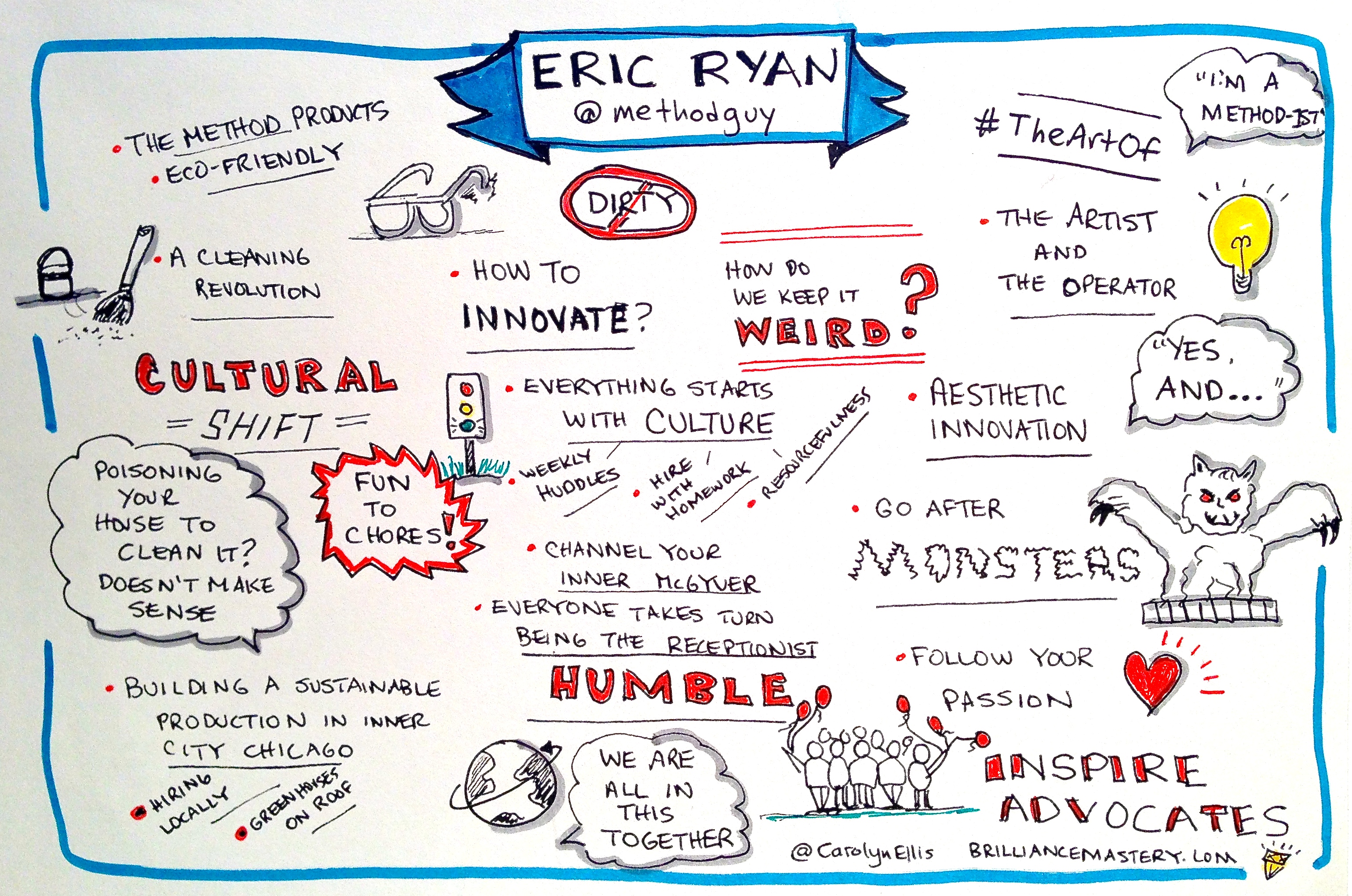 Blogger, author and world traveller, Chris Guillebeau took the stage next. His core message was that entrepreneurs need to create real and meaningful value for their clients. Making your customer a hero and keeping a focus on relationship is key.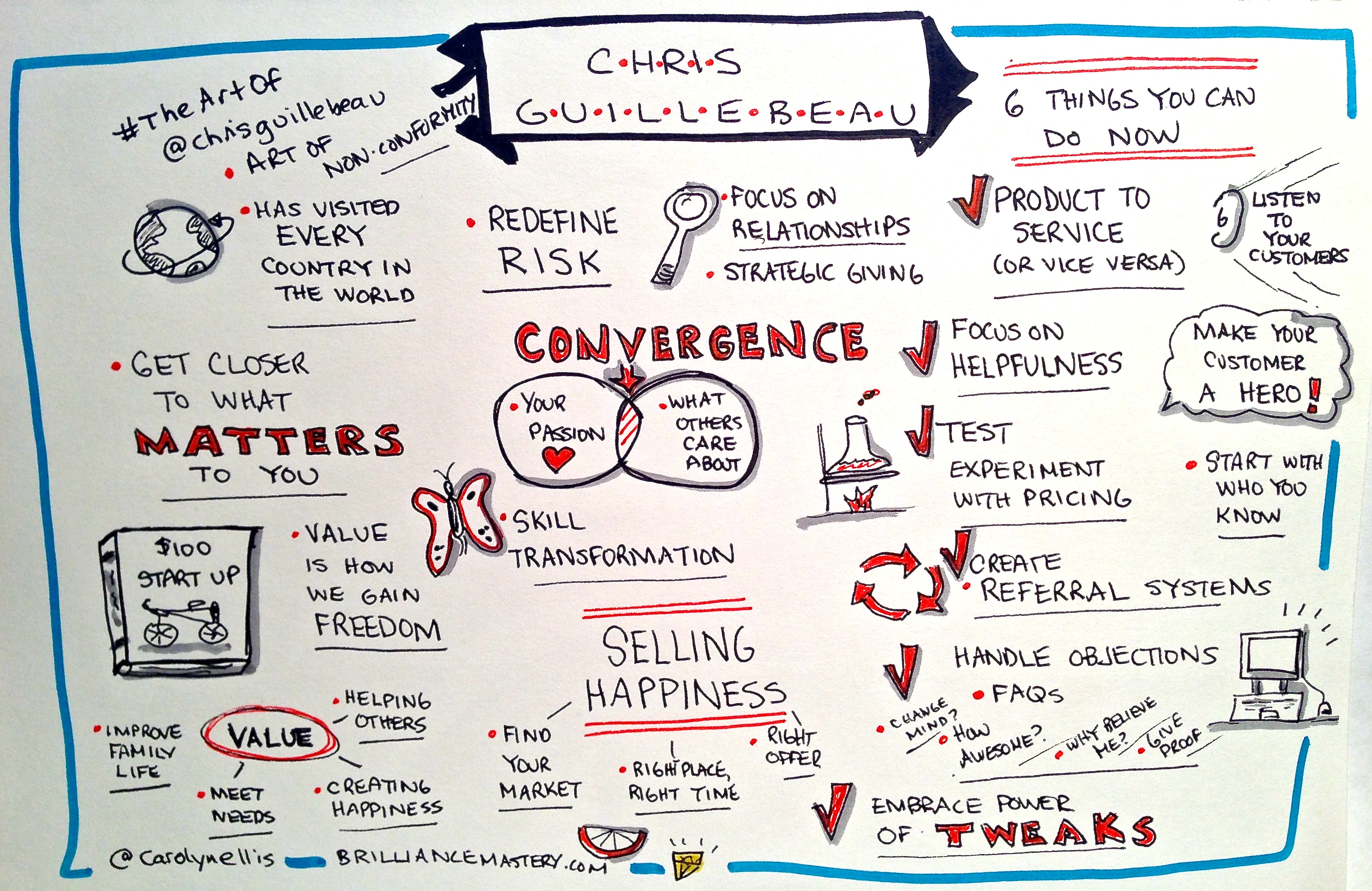 Debbie Travis shared her "10 Commandments" learned from her years as a successful designer, TV host/producer and business woman. She engaged and at times surprised us with her frank talk about what she learned as a woman entrepreneur forging her brand and building huge success. Following your passion, getting support and embracing your mistakes were key ingredients in her journey, which now sees her leading women's retreats in Tuscany.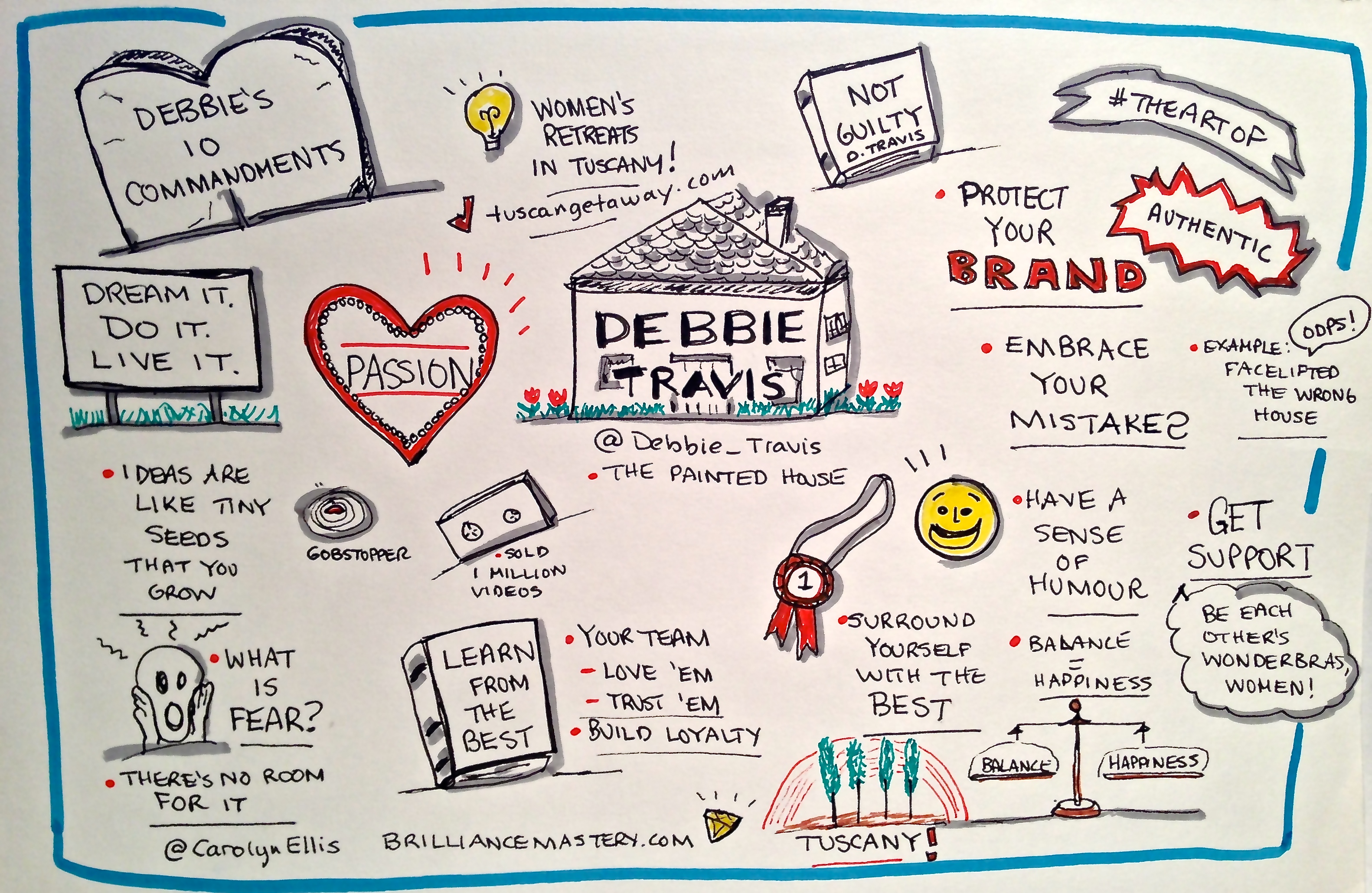 Host Ron Tite moderated an Entrepreneur Panel with Catherine Graham of commonsku, Drew Green of Shop.ca, and Jay Klein of Pur Gum. It's always inspiring and reassuring to hear some of the ups and downs from other entrepreneurs about their path to success. At each stage of your business, you need to keep on growing and dreaming big. "We hire partners, not employees" was a great distinction of how entrepreneurs need to think differently than our corporate or institutional counterparts.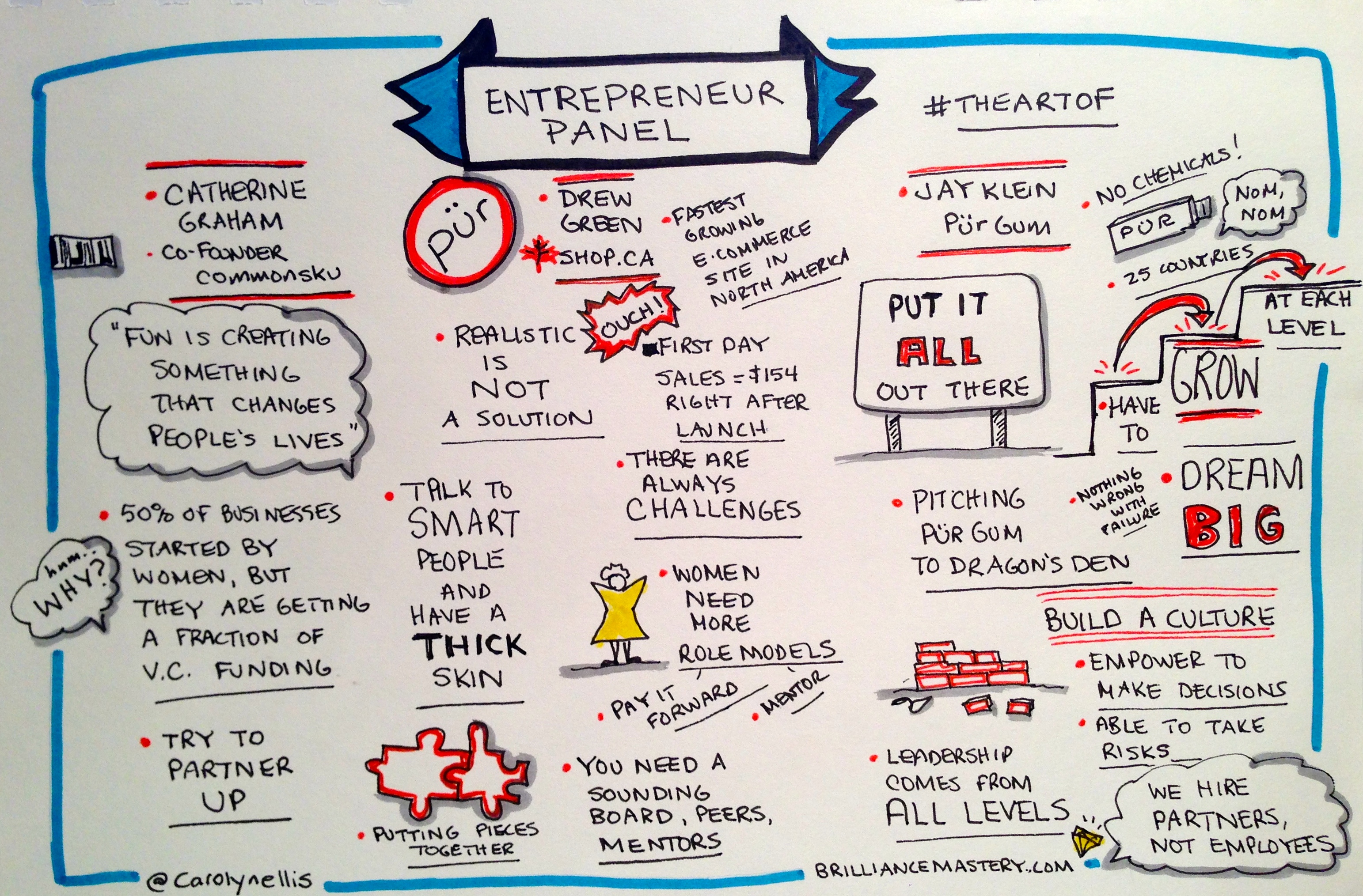 Author, activist, investor and Reddit co-founder, Alexis Ohanian, captivated us with his presentation about the power of pixels to "make the world suck less." He believes through the power of a neutral internet, we all have the potential to create innovations. Often the best ideas come from the things that aggravate you the most. It delightful to learn that Ohanian is also a doodler!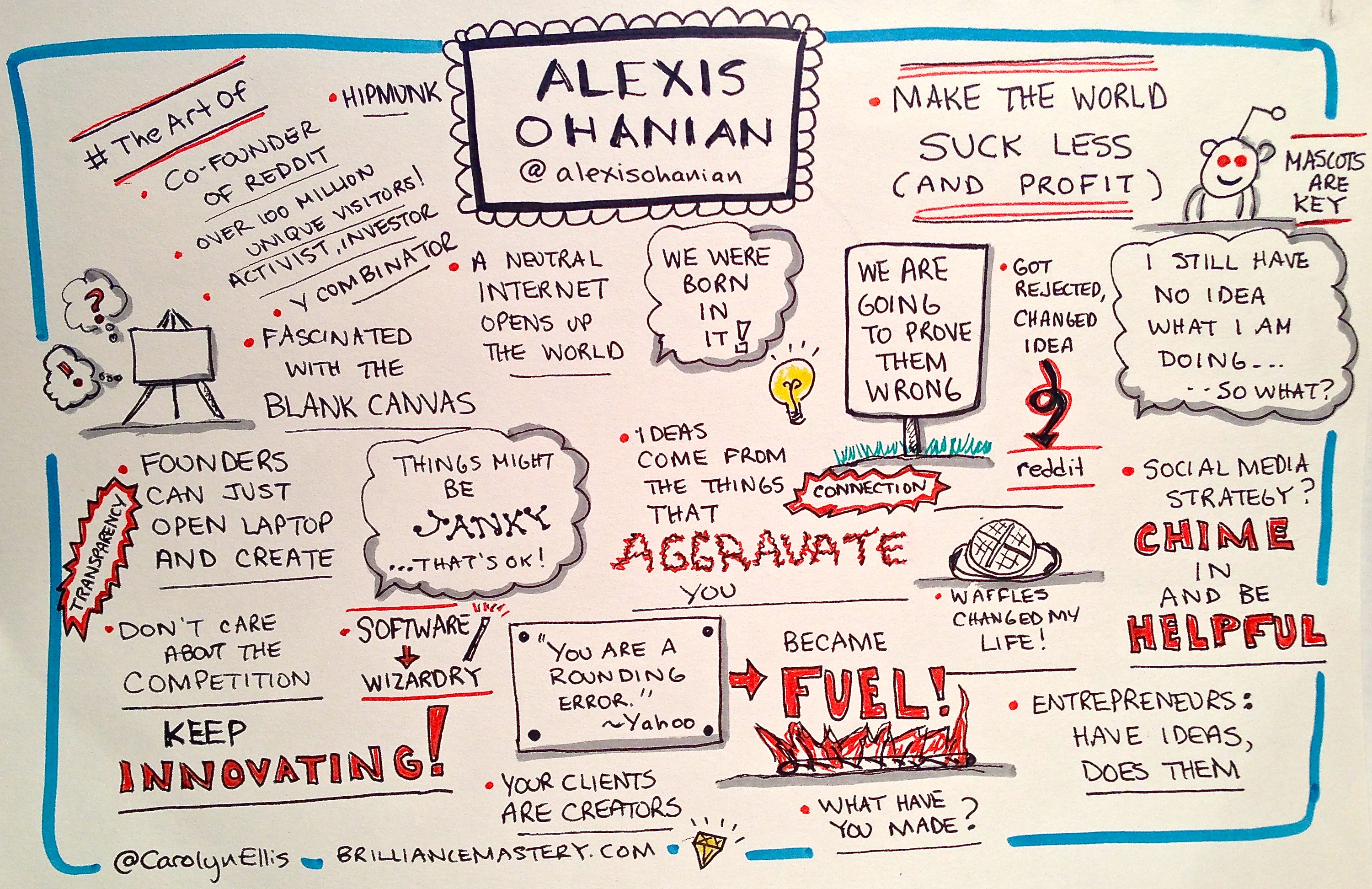 Clearly there is never a need to worry that your audience will drift off at the end of an informative and inspiring day when you have Gary Vaynerchuk rounding out your speaker line-up! At times humorous, at times speaking with in-your-face frankness, Gary challenged the audience to stay relevant to our clients. He feels we need to become masterful practitioners of our craft, not just "headline readers." Hustle and implementing what works are two reasons why he's been able to build multiple $50M+ businesses and is now running his how marketing agency. Event host, Ron Tite, did a wonderful job fielding questions from the audience as Gary continued to deliver his nuggets of wisdom to us well after his official time was done.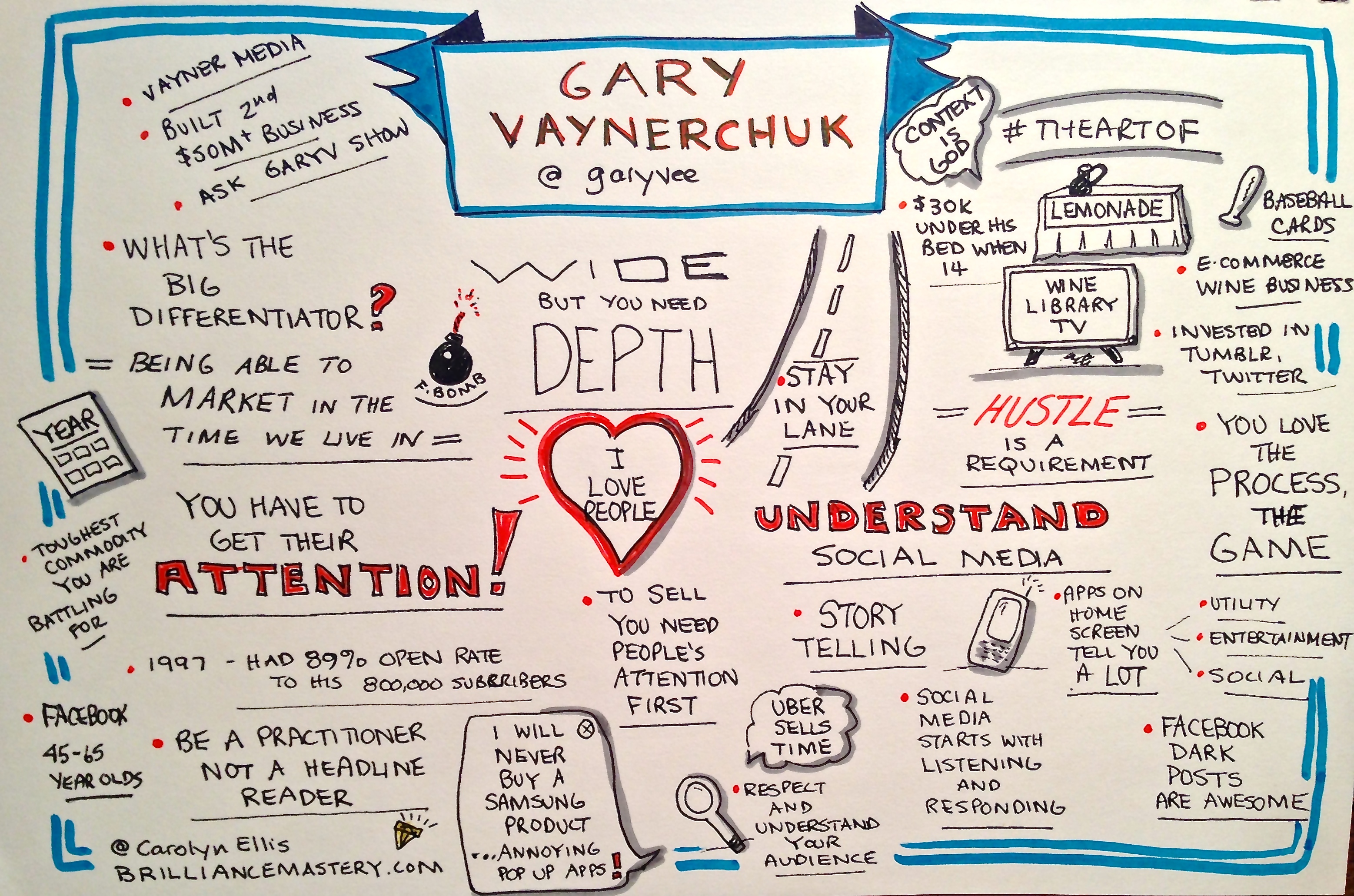 From the happy faces and excited chatter as the audience filed out of the Metro Convention Centre that day, it was clear to me that The Art of Entrepreneurship speakers delivered a very rich, practical and impactful program to its audience.
image of Gary Vaynerchuk courtesy of Mira Budd Photography