The Think Big Manifesto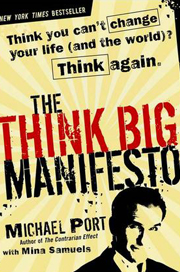 Michael is currently the leader of the Think Big Revolution, an online social networking community fast approaching 50,000 members. This manifesto is the product of thousands of people who have come together and shared their big thinking as members of this community.
It has become far too common that people never reach their full potential, their biggest limiting factor being the belief that they can only achieve small success. The Think Big Manifesto is a practical roadmap of how we can stop squandering such potential and instead learn how to break out of our mental boxes and think on a much bigger scale. Don't just aspire to move up the corporate ladder, aim to be CEO.
The core of the audio book will teach listeners the "Ten Principles" necessary for thinking big. Once they learn these principles they can use them to transform their professional and personal, day-to-day, life. Practical issues that will be covered include:
Work: Career Path Obstacles created/exacerbated by small thinking; Innovation curbed by small thinking; Teamwork destroyed; Strategy clouded; Tactics muddled; etc.
Relationships: How small thinking leads to competition and division, to lack of generosity, empathy, vulnerability, the things that form strong bonds and create true cooperation and collaboration.
Social World: How small thinking locks us into a divorce between our private and public worlds, the divorce of doing well in business and doing well for the common good.
Personal Growth: How small thinking keeps us from embracing and developing our true passions, and the alienation and lack of fulfillment that results.
THINKING BIG is the practical solution to all of these very basic human frustrations.