The Loyalty Leap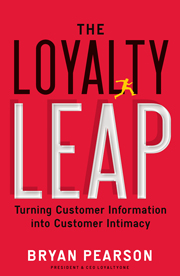 How willing are you to offer your personal information to a big company? What about letting them send you emails and promotional messages? Most consumers no longer trust companies like they used to. So how then has Bryan Pearson convinced 99.99% of his 10 million customers in LoyaltyOne's AIR MILES Rewards Program to willingly share their personal information?
Companies often make the mistake of assuming that consumers trust an abstract brand when in fact the opposite is true; the true face of an organization is the human behind the counter or on the other end of the phone. Improving those interactions is the key to developing strong, long-term customer relationships.
THE LOYALTY LEAP shows readers how to build the unwavering consumer loyalty needed for a subsequent long-term relationship and how to do so without infringing on the privacy of their consumers.