What trends define the new era of selling? It wasn't long ago that the sales process dominated the buyer's journey – and customers felt they were at the mercy of what sales was willing to share with them along the way. Today that is no longer the case. This changing customer climate is proving difficult for sales teams to acclimate to. Today, sales reps must be proficient not only at selling products or services but also at understanding and anticipating customer needs. Otherwise, they will forfeit loyalty to competitors that do.
"Customers are not only voting with their wallet, they are voting with their loyalty."

Salesforce Research surveyed over 3,100 sales professionals worldwide to understand the future of selling and discover how sales is pivoting to be smarter, faster, and more customer centric. While there are many data points covered in both the State of Sales and the State of the Connected Customer research, one that jumped out to me was the fact that 7 out of 10 consumers – and 82% of business buyers – agree that technology has made it easier to take their business elsewhere. The advancement of social, mobile, and cloud has resulted in many companies creating a low barrier of entry to entice prospective customers to their products and services via a frictionless sales experience. While the upside for companies should be fairly obvious, it also has downstream implications which companies must be aware of. Customers are not only voting with their wallet, they are voting with their loyalty. Minimal switching costs means companies must be more efficient at acquiring customers but they also need to be better at keeping them engaged and loyal over the lifetime of that customer. The State of Sales research showed that meeting customer expectations (See Figure 1) is the top overarching challenge to sales organizations' processes — and when these expectations are not met, customers will purchase less, leave all together, or worse yet, share those poor experiences with their social networks.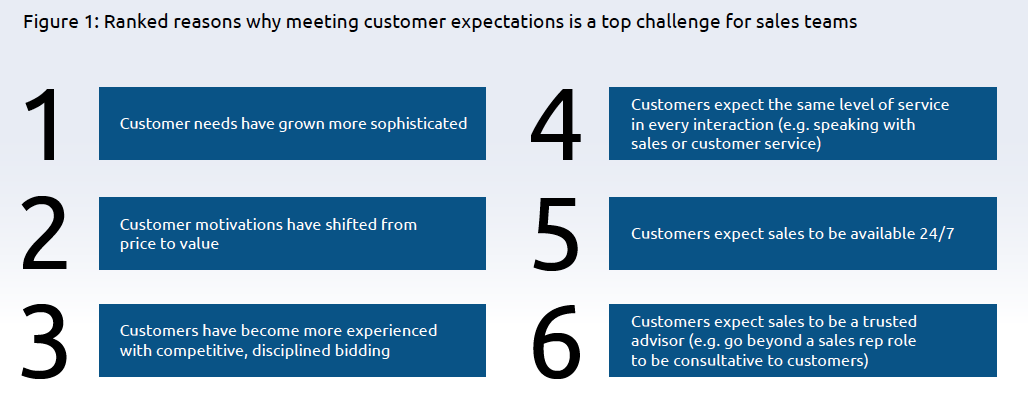 High-performing sales teams are aggressively innovating and pivoting toward the customer and are 2.8x more likely than underperformers to say their sales organizations have become much more focused on personalizing customer interactions. These teams are more successful because their entire company is aligned on how to empower sales to meet customer demands (See Figure 2). They understand the importance of arming reps with advanced and intelligent technologies. This approach empowers top teams to collect and understand customer data across departments, cut down on process time, deliver instant and proactive experiences, and create personalized interactions – ultimately resulting in higher revenue growth.
"Customer experience and revenue-generating activities are no longer mutually exclusive. They are more intertwined."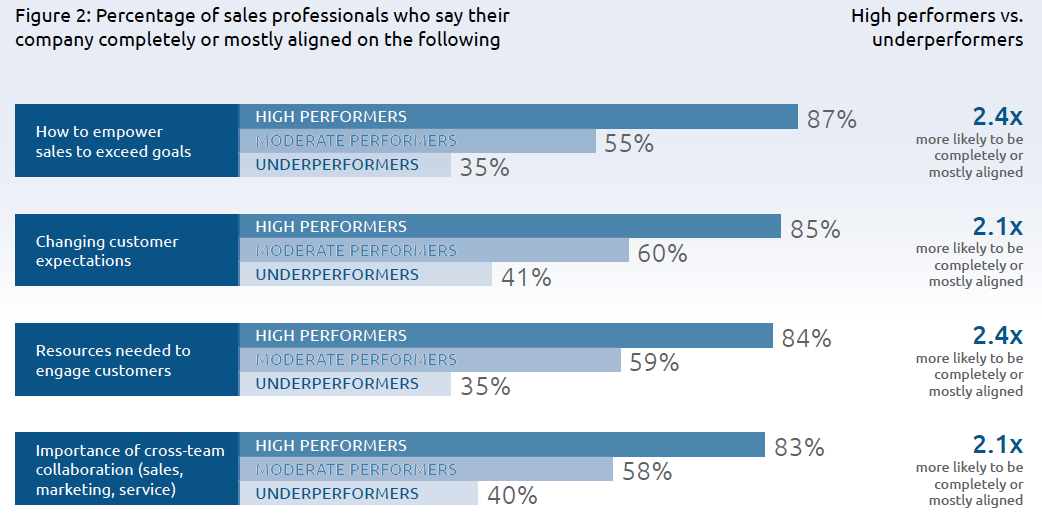 There is no shortage of skeptics of the new sales paradigm. They believe that while it may be changing other industries, or segments, it isn't happening in theirs. Although the standard priorities such as customer acquisition, enhancing training, and hiring more reps aren't going away anytime soon, evolving objectives are beginning to reflect the pivot to a customer-first mindset. These newly elevated aspirations include increasing retention through deeper relationships (51%), becoming trusted advisors to customers (39%), and providing customers with a more personalized experience (37%).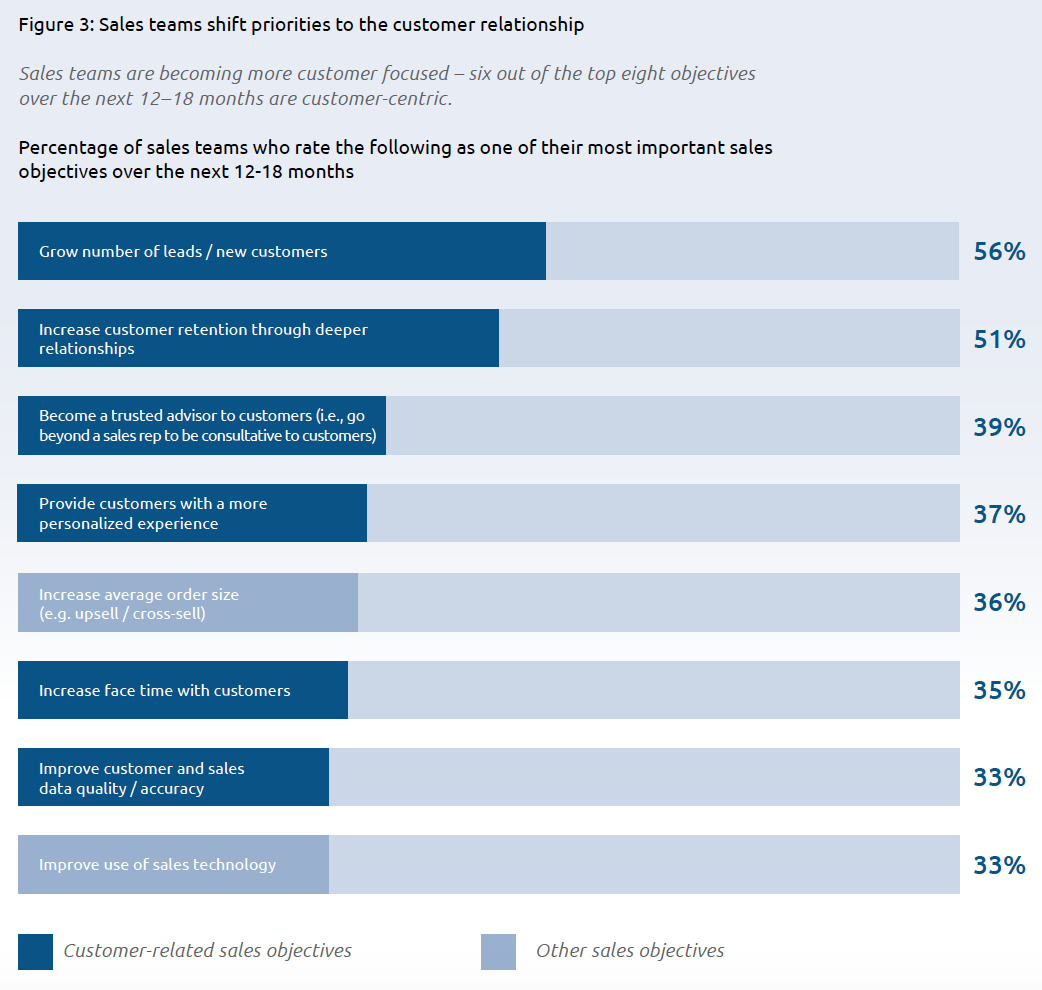 What has become evident is the fact that customer experience and revenue generating activities are no longer mutually exclusive. As these two areas become more intertwined, traditional metrics such as quota and pipeline generation alone don't suffice as definitive success metrics. The quality of the customer experience is now key to setting sales teams apart from the rest and therefore must become more embedded in sales planning for companies across all industries.