You Are Awesome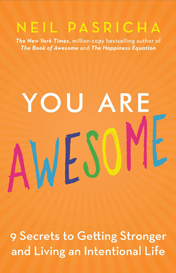 Why is life getting harder instead of easier?
How do I get back up after life knocks me down?
And how do I grow stronger and live more intentionally?
These are just some of the big life questions Neil tackles in his motivating new book You Are Awesome. And Neil knows what he's talking about—he's dealt with many failures and flops throughout his life and, in addition to sharing these intimacies, he also offers simple, research-backed models we can all use to get back up and stay on track.
Resilience is a skill in desperately short supply today. One side effect of living in our era of abundance is that we no longer have the tools to handle failure or even perceived failure. We are turning into an army of porcelain dolls. We no longer bend, we break. When we spill, we splatter. When we crack, we shatter. The New York Times reports that nearly two thirds of college students report "overwhelming anxiety." Cell phones show us we're never good enough. And what about rates of depression, loneliness, and suicide? All rising!
The world is ready for Neil's new approach to resilience in the form of nine accessible, story-based, science-backed secrets that will help you live stronger and with intention. By taking this journey with Neil as your guide, you'll learn how to navigate failure, how to positively reframe your own perceptions, and ultimately, how to become your most unbreakable, powerful and awesome self.
Written in Pasricha's trademark high-energy, takeaway-laden awesome style, this book is for everyone—including fresh grads walking into their first jobs, anyone processing a breakup, people whose industries or careers are quickly getting disrupted, parents wanting to help children be mentally tougher, children wanting to help parents be mentally tougher, and millennials looking for a flashlight to help illuminate the dark path of adulthood.
This book is for anyone who needs to be reminded that every problem is an opportunity, that every dead end has a hidden door, and that every step back is ultimately a step forward.
Pssst…. This book is also a little reminder that YOU ARE AWESOME.