X: The Story of a Magic Pill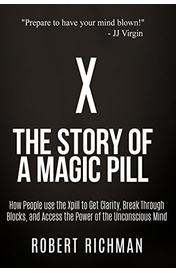 In the age of the internet, there's no shortage of information on what it takes to create a better life: Eat this. Drink that. Try this. Avoid that. But does your life dramatically improve because of information? Maybe. But probably not. What if you got something else besides just more advice? What if you could experience something that changed you forever? This book is the story behind the XPill—and how a little pill with nothing in it has the power to change people's lives, not because of what's in it, but because of the experience it creates.
In X: The Story of a Magic Pill, author and speaker Robert Richman shows you how he discovered a surprisingly powerful way to help people:
Find love
Get over a relationship
Quit smoking
Lose weight
Write a book
Conquer their to-do lists
Grow a business
Bust through huge mental blocks
Discover what they really want (which isn't what they think)
You'll learn: The science behind the XPill and why it works (even when you think it won't).
How to use words and intention reprogram your mind—and get out of your own way. How the process can cause you to shift habits, finish projects, and make dramatic changes in your life.