Rethink Work: Finding & Keeping the Right Talent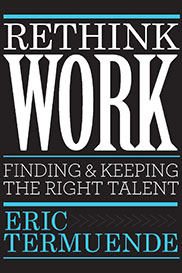 This book tackles one of the big problems employers face today: finding and keeping the best employees, especially at a time when young workers typically quit after only three years on the job. Rethink Work stands out from other books in this category because the author is one of those young people: 24-year-old Eric Termuende, a rising star on the international speakers circuit. Instead of relying on the well-tread but often misguided notions that emerge from surveys, Termuende writes about the actual experiences of young people on the job. The result is a refreshing look at the workplace today.
To keep the best employees, companies need to focus not on what they do, but how they do it, with whom they do it, and why. This will be the true differentiator for companies in the future.
Termuende's advice is soothingly old fashioned. This young writer says it's time to put away the devices, at least part of the time, and start talking face to face with other people in the office. What young people want is human connection, and when they have it, they will perform at a high level and stay loyal.
​This means treating people like the individuals they are, not as stereotypes—such as so-called Millennials, who are typically branded by their elders as being entitled. It means talking with each other, not texting. The workplace of the future, in other words, will restore the value of old-fashioned human relationships.