Personality Poker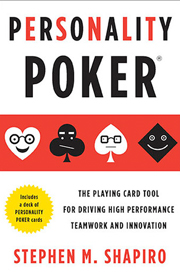 Do you delight in planning and taking action?
Do you revel in facts and data?
Do you crave new ideas and experiences?
Do you feel more complete when you are around others?
In other words, are you a spade, diamond, club, or heart?
Find out by taking one of the quickest, easiest, and most entertaining personality tests to ever hit the business market. Over 25,000 people in dozens of Fortune 500 companies have played Personality Poker to spur innovation and optimize growth.
Use the included cards and Steve Shapiro's insightful techniques to identify your personality "strong suit," revealing where you really belong in an organization and how to maximize your contribution. You will also discover:
* Why the person you like the least is the one you need the most
* How your greatest strength can limit your success
* Why homogenous teams are more efficient, but end up limiting innovation
Visit PersonalityPokerBook.com