Calm Within the Storm: A Pathway to Everyday Resiliency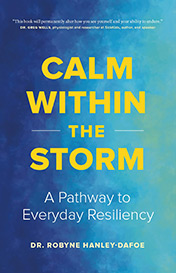 An inspiring new voice in the field of resiliency gives a tender, powerful and achievable path to rise from adversities through self-acceptance and self-alignment - always based on being enough in the here and now rather than the untenable quest to be more.
Robyne Hanley-Dafoe learned resilience from the ground up - not just as an accomplished university researcher, but first by overcoming mental illness, the stigma of being a high-school dropout, and almost dying in a car crash at age sixteen. Here, she presents an attainable model for everyday resilience, which everyone can use to feel more grounded and capable - and not beat themselves up in the process for not being "tough enough" in the first place.
Robyne believes that the language around resilience as "fighting" or being "tougher" is misguided; learning happens when we feel safe and trust, and fear and shame do not promote growth or change. In Awakened Resiliency, Robyne maps out a kinder approach to taking on the challenges of life and developing authentic self-alignment.
Robyne focuses on personal development practices that are research informed, sustainable, and attainable. She identifies the obstacles that derail us and keep us stuck, wondering - Why does life feel so hard? Why do so many of us seem to live in a constant state of strife and chaos?
Robyne has identified five interconnected pillars that are universal across cultures and backgrounds: Belonging, Perspective, Acceptance, Hope and Humour. These pillars form a person's capacity for resilient behaviours, despite life''s challenges. She then introduces you to the Resiliency Trajectory Model by showing you resiliency in action, through stories, research and practical strategies.
Blending the grounded science of classic books on resiliency like Grit . by Angela Lee Duckworth and Resilient by Rick Hanson, with the warmth and psychological insight of Brene Brown''s Gifts of Imperfection, this book offers a refreshing take on everyday practices that support resiliency. Robyne shows the reader that you are truly capable, and that being okay (rather than better) is enough.